Battle for the Fjord

Game menu icon
General info
Location
Scandinavia
Battlefield info
Recommended Players
2
Starting Zones
2
Capture Zones
7
Reinforcement Zones
2
Battle for the Fjord is a new battlefield introduced in Wargame: AirLand Battle.
It is a heavily infantry focused map, with many urban environments such as surburbs and surrounding forest. There are also many flanks to watch and attack from. Recon, helicopter and infantry units are valuable and most effective here.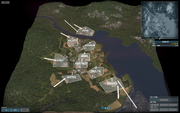 Ad blocker interference detected!
Wikia is a free-to-use site that makes money from advertising. We have a modified experience for viewers using ad blockers

Wikia is not accessible if you've made further modifications. Remove the custom ad blocker rule(s) and the page will load as expected.