Marder VTS1
Info
Nation
West Germany
Class
Tank Destroyer Prototype
Prerequisite
Kanonenjagdpanzer
Cost
25
Specifications
Armor
Front 4 / Side 3 / Rear 2 / Top 2
Strength
10
Size
Medium
Optics

Poor

Speed
70 km/h
Road Speed
110 km/h
Stealth
Poor
Fuel Capacity
650 L
Autonomy
570 km
Year
1978
Type
Mechanized, Armored, Motorized
Prototype
Yes

Weapons

Main Gun
L7A3 (105mm)
Available to NATO forces, the Marder VTS1 is a West German tank destroyer prototype.
The Marder VTS1 is a fast cost effective gun platform that makes it a favorable unit for hit and run tactics as well as flanking.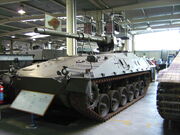 Development of the Marder VTS1 was a part of the German effort to find a replacement for the aging Leopard 1 tank. it consisted of mating the 105mm cannon from the earlier Leopard 1 with the Marder IFV chassis. it was being developed in 1978, but the project turned out too costly and in the end only a single prototype was ever made. 
Red Dragon Edit
Weapons
Type
Main Gun
No Weapon
No Weapon
Name
L7A3
Caliber
105mm
Ammo
x 20
Range
Ground = 1925 m
Helicopters = N/A m
Airplanes = N/A m
Accuracy
40%
Stabilizer
N/A
AP Power
15
HE Power
3
Suppression
121
Rate of fire
7 r/min