Greetings, Commander!
Edit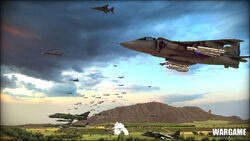 Greetings commander, welcome to the Wargame: European Escalation & AirLand Battle Wikia Database. Thanks for your edit to the War in the North page. Whether you are here looking for information, or looking to add information you think might be missing, we hope you like the place and choose to contribute to the wiki.
The Wargame Wiki is aiming to be the best resource for Eugen Systems Wargame series.
Please do not remove talk page and forum comments, as they are part of the public record. Remember that you should always sign your comments on talk and vote pages using four tildes, like this: ~~~~.
I hope you enjoy editing here! If you have any questions, see the help pages, add a question to the Forum, ask one of our administrators or just leave a message on my talk page. Privatejfx141 (talk) 02:36, September 5, 2013 (UTC)
NOTE: This is an automated message!